See Our Locations
---
Dermatologist in Staten Island, NY, Linden, and Point Pleasant Beach, NJ
At Patricia C. McCormack MD, our priority is to deliver quality dermatology care to informed patients in a comfortable and convenient setting.
Quality Care
When you have needs for dermatological care, you need to turn to a doctor who listens and responds; an experienced doctor who knows the field and can effectively diagnose and treat your needs. You need a friendly physician who counsels you on the best ways to maintain and improve your health. Our physician(s) meet all these criteria. Plus, you benefit from a dedicated team of trained professionals who give you the individualized attention you deserve. Services we offer include Cosmetic Dermatology , Adult Dermatology , Pediatric Dermatology , Dermatology Laser Surgery , Mohs Surgery , Skin Cancer , and more.
Informed Patients
Dr. McCormack believes that informed patients are better prepared to make decisions regarding their health and well-being. That is why we've included information on this website covering topics associated with dermatology.
Comfortable, Convenient Setting
The best care in the world doesn't mean anything if you can't access it. At Patricia C. McCormack MD, we strive to make our Staten Island, Linden, and Point Pleasant Beach offices as efficient and convenient as possible. Included in these web pages is information regarding Dr. McCormack's offices including maps, directions to our Staten Island, Linden, and Point Pleasant Beach offices, hours, insurance policies, and appointment scheduling. You can even email a request for an appointment by clicking here! We hope you find this website useful and invite you to contact us with your questions at any time.
We Care About Your Skin
As we age, it's natural to develop wrinkles, unwanted sunspots, acne, spider veins and freckles, along with sun damaged skin. Our dermatologists can help restore your skin so that you can feel more confident. We're proud to offer Botox and Dysport treatments at our three offices, as well as dermal fillers, including all Restylane and Juvederm products. These treatments help combat the signs of aging and help you look and feel your best.
---
---
As Seen On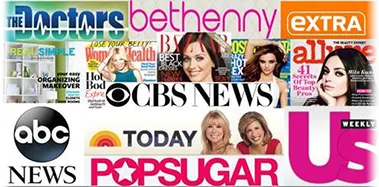 ---
WHAT TO WEAR TO PROTECT YOUR SKIN FROM THE SUN

Seeking shade, applying sunscreen, and wearing sun-protective clothing go a long way in protecting your skin from the sun's harmful UV rays.
Dermatologists recommend dressing to protect yourself from the sun by wearing these clothes and accessories.
In addition to seeking shade and applying sunscreen, wearing sun-protective clothing goes a long way in protecting you from the sun's harmful UV rays, which can increase your risk of skin cancer.
However, not all clothing is created equal when it comes to sun protection, as some garments provide better UV protection than others. The key is to look for dense fabrics and dark or bright colors and pair those with the appropriate accessories.
---
9 WAYS TO PREVENT FACE MASK SKIN PROBLEMS

Masks play a vital role in reducing the spread of the coronavirus. Masks can also be hard on your skin, causing problems that range from acne and peeling skin to rashes and itchiness. To help prevent skin problems from developing under your mask, board-certified dermatologists recommend these nine tips.
Cleanse and moisturize your face daily.
Protect your lips by applying petroleum jelly.
Skip the makeup when wearing a mask.
Avoid trying new skin care products that can irritate your skin.
Use less of certain skin care products if your face becomes irritated.
Wear the right mask.
Take a 15-minute mask break every 4 hours.
Wash your cloth masks.
Continue the treatment plan that your dermatologist created for you.
---
HOW TO TRIM YOUR NAILS

Nail grooming is a simple yet important self-care routine. Not only do short, well-manicured nails look great, they are also less likely to harbor dirt and bacteria, which can lead to an infection. In addition, the right nail clipping technique can help prevent common issues like hangnails and ingrown toenails.

Although nail clipping seems pretty straightforward, there are some important steps you should follow to ensure a healthy cut. To properly trim your nails, dermatologists recommend the following tips:
Soften the nails.
Gather the proper tools.
To trim your fingernails, cut almost straight across the nail.
To reduce your chances of getting an ingrown toenail, cut straight across when trimming your toenails.
Smooth uneven or rough edges using a nail file or emery board.
Leave your cuticles alone.
Moisturize after trimming to help keep your nails flexible.
Nails are a reflection of your overall health.
---
A DERMATOLOGIST'S TOP TIPS FOR A HEALTHY BEARD

If you want a healthy-looking beard, you need to take care of the skin beneath it. The right skin care can prevent problems like acne, beard dandruff, and itch.

To keep this skin care simple, we asked board-certified dermatologist and Mohs surgeon Anthony Rossi, MD, FAAD, for advice. Here's the simple three-step plan he recommends for people with beards.
Dr. Rossi's three-step skin care plan for a healthy-looking beard
Wash your face and beard every day.
Moisturize.
Groom.
---
DO YOU HAVE HAIR LOSS OR HAIR SHEDDING?
If you've been noticing more hairs on your pillow or hairbrush than normal, you may worry that you have hair loss. You could actually just be shedding more hairs than normal. Yes, there is a difference.
Hair shedding often stops on its own
It's normal to shed between 50 and 100 hairs a day. When the body sheds significantly more hairs every day, a person has excessive hair shedding. The medical term for this condition is telogen effluvium.
---
COLD-WEATHER SUN PROTECTION
As you bundle up from head to toe to stay warm in the winter cold, you may be tempted to set the sunscreen aside, but experts say sun protection shouldn't be reserved for warmer months.
"On a crisp winter morning run, remember that even if the sky looks clear, that also means there's UV radiation penetrating down," warns board-certified dermatologist Seemal R. Desai, MD, FAAD, a clinical assistant professor in the Department of Dermatology at the University of Texas Southwestern Medical Center who also maintains a private practice in Plano, Texas. "Risk of sunburn can also increase when engaging in popular winter activities where one is exposed to higher altitudes and additional UV light reflects from surfaces, such as snow for skiers and snowboarders," he adds.
---
HOW TO CARE FOR DRY, CRACKED HEELS
It's easy for the skin on your feet to become dry and cracked, especially in the winter. Fortunately, there are steps you can take to treat dry, cracked heels at home and prevent them from coming back.
To care for dry, cracked heels, follow these tips from board-certified dermatologists.
Limit baths and showers to 5-10 minutes.
Use a gentle, fragrance-free cleanser.
Moisturize within 5 minutes of bathing.
Before bed, apply plain petroleum jelly.
Protect your heels.
Wear the proper shoes.
---
MELASMA: OVERVIEW
What is melasma?
Melasma is a skin condition that causes patches and spots, usually on the face, which are darker than your natural skin tone. While common, melasma can be mistaken for another skin condition. Board-certified dermatologists have the expertise required to give you an accurate diagnosis and individualized treatment plan.
---
WHAT IS A SKIN BIOPSY?
The word "biopsy" is one of those worrisome words that people often associate with cancer.
While it's true that your dermatologist will perform a skin biopsy if a growth on your skin might be skin cancer, this medical procedure helps dermatologists diagnose many different skin conditions.
If your dermatologist thinks you need a skin biopsy, they can perform this procedure during an office visit while you remain awake.
During a skin biopsy, your dermatologist removes a small amount of skin, which will be looked at under a microscope. This magnified view is the only way to diagnose some skin diseases, including skin cancer, infections, and conditions that cause blisters. A skin biopsy may also be used to find out what's causing a rash.
During a skin biopsy, your dermatologist will:
Disinfect and numb the area
Remove all (or some) of the skin that requires a closer look
Treat your wound
Give you instructions for at-home wound care
Send the removed skin to a lab where a doctor will examine it under a microscope
Contact you with the biopsy results
---
CAN COVID-19 CAUSE HAIR LOSS?
If we've learned anything from the coronavirus pandemic, it's to expect the unexpected. The hair loss that many people develop, however, may not be so unexpected. Here's why.
Temporary hair loss is normal after a fever or illness
Fever is a common symptom of COVID-19. A few months after having a high fever or recovering from an illness, many people see noticeable hair loss.