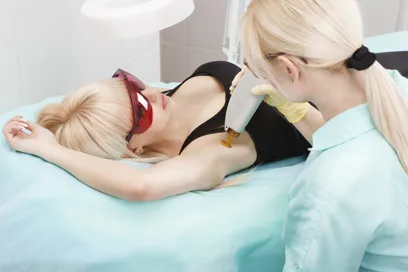 Cosmetic treatments may look easy. But knowing whether a treatment is safe for you and can deliver the results you want requires in-depth medical knowledge of the skin. Dermatologists have this unique training.
Without this training, complications become more common. One woman had blisters, swelling, and bruises on her face. A family doctor had injected her face with a chemical used to treat leg veins. Yes, leg veins. Another woman had a burn on her upper lip after having laser hair removal at a medical spa.

After developing complications, these women saw a dermatologist for corrective treatment. Thankfully, the problems were treatable. In speaking with a reporter, one woman said it was a traumatic experience. She urged others not to make the same mistake.

Patient safety is dermatologists' No. 1 priority. Dermatologists have the education, expertise and experience to safely and effectively reduce the signs of aging. The American Academy of Dermatology recommends that before undergoing any cosmetic procedure, consumers should ask the following questions:
Q: What are the doctor's credentials and is he or she board-certified?
A: Remember, dermatologists are physicians with extensive education, training and experience in keeping the skin, hair and nails healthy.
Q: How many of these particular cosmetic surgery procedures has the physician performed?
A: The procedure should be one that the doctor performs regularly. Ask to see before-and-after photos of previous patients.
Q: What result can I expect and are there any risks?
A: Because your results depend largely on the skill and experience of the person performing the procedure, it is important to select a board-certified dermatologist. A dermatologist can tell you if the procedure will deliver the desired results, based on the condition of your skin as well as your age and health.
Remember, undergoing a cosmetic procedure is not just about your appearance and convenience. It is about your health and safety first. A dermatologist has the medical training and experience required to keep skin healthy and youthful-looking.
© American Academy of Dermatology. All rights reserved. Reproduction or republication strictly prohibited without prior written permission. Use of these materials is subject to the legal notice and terms of use located at https://www.aad.org/about/legal